Top 10 apps for dementia: Dementia friendly technology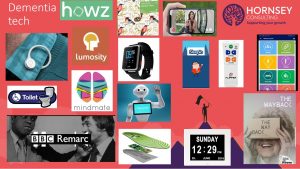 Following her talk at the recent webinar "Dementia Inclusive by Design: People and Technology", Ali Rogan, founder of Hornsey Consulting, shares her thoughts on the latest tech for dementia and what to look out for.
Top 10 apps for dementia – dementia friendly technology  
Whilst not a solution for everyone, technology solutions can work in a variety of ways to support health, manage risks, provide enjoyable and stimulating activities and support loved ones.
So where can you go for good advice and support on dementia tech?
If I search Google for "dementia apps", the first thing that comes up is a blog from 2016 from UK mobility. I get better results when searching for carer's apps. I was also slightly disappointed to discover that the NHS Apps library only contained two dementia apps – the fab House of Memories app which lets you explore objects from the past and share memories together, and something called Talk Around It Home which is a speech and language therapy app.
So there are two issues here – using the right search words and the fact that there isn't one single trusted resource out there.
As chair of the Prime Minister's Champion Group's Dementia Friendly Technology (DFT) task and finish group, we successfully pulled together a network including people living with dementia and their families to understand the benefits of a wide range of technology to support their care and wellbeing. This resulted in the Dementia Friendly Technology Charter which aimed to:
To help every person with dementia have the opportunity to benefit from technology appropriate to their needs.
To outline and encourage the implementation of high-level principles and best practice for organisations that provide services to people with dementia
Building on this work, and given the wealth of technological solutions available, this blog summarises my top 10 favourite tech broken down into four domains as identified in the charter:
Before diagnosis – early support
After diagnosis – a bit more help
Help in a crisis – support for learning / relearning skills for daily living
More complex needs – coping with multiple needs
A: Before diagnosis – early support
Under this category there are many apps which include apps for sleep, brain teasers or fitness and sensors and smart door bells.
Ring Door Bell
Here's tech that has benefited from TV advertising campaigns and we thank them for raising awareness of useful tech. From £89 and at £8 per month, you are able to see, hear and speak to visitors in real time from anywhere, with really good video quality, particularly at night and optional built in back up battery. In addition the ability for the system to automatically call three emergency contacts. Certainly helpful for anyone worried about the security of a loved one and themselves. https://en-uk.ring.com/
Lumosity
This is the number one brain training app which claims to improve memory, increase focus and let's you feel sharper. It's been going 10 years with 100 million members and their scientific and cognitive research background looks impressive, looking at memory, speed, attention, problem solving and flexibility. https://www.lumosity.com/en/
B: After diagnosis – a bit more help
There is so much I could cover in this category (not necessarily apps) such as dementia products like the 7" dual display digital clock £44.99 (tried and tested and gives full calendar information or simplified clock information), signage to reduce confusion and aid orientation – some are quite costly – you can pay £29.70 for signs with anti-fungal and anti-bacterial qualities, or of course you can make your own.
But I'll concentrate on two areas – the TV and safer walking tech.
The Flipper Big Button Remote Control
Now more than ever, lockdown has seen a surge in TV screen time with people spending 40% of their day watching TV, up a third on the previous year.
This is AlzProduct's recommended remote control, which they believe to be the best simple television remote control available in the UK. At £39.99 if it's not compatible with your TV you get your money back. www.alzproducts.co.uk/flipper-big-button-remote-control
Proximity
Up to 60 percent of individuals with dementia will wander at some time. Becoming lost and disorientated is a serious concern – not only can it put them at risk of harm and stop them from being able to live independently, but also can cause great stress to families and carers.
I've seen a lot of "trackers" over the years and many are too bulky for smaller users (eg ladies) and you've got to ask yourself how long the charge lasts, how will you remember to charge it, the ease of use/charging, remembering to wear it, is it waterproof, will it work in rural areas – so there are many things to think about.
The Proximity is £34.99 and the app is free (although sold out at the moment). It's a smart, magnetic button sensor that connects to a carer's mobile, alerting you when the wearer walks away from you (20 metres). The battery life is 6 months and you don't need to charge it. And it could work well at night time if you place your phone next to you, acting as an early warning. http://www.proximitycare.co.uk/
C: Help in a crisis – support for learning/relearning skills for daily living
In this section I cover reminiscence.
The Wayback
The Wayback is a virtual reality film series designed for those living with dementia and their carers. Some great co-production went on with the making of their first film – 1953 Coronation. All of the food and drink on the table came from the memory sessions; happy recollections abounded of fish paste sandwiches, jelly and ice cream, pilchards and Mackesons Stout. Someone else sang to them a selection of skipping songs and these too can be seen in the final film.
It's a low cost way to entertain and engage through multi-dimensional film, instantly rousing curiosity, enjoyment and memories of historic events. I love it, but the thought of having a VR reader will be off putting for some. However when you see it, it really is so simple to use. https://thewaybackvr.com/
AdMemoire
This app is filled with 1950s and 1960s advertising from the collections at the History of Advertising Trust (the largest archive of advertising in the world). It's £39.99 per care home per month. I like that you can play it on a large screen via a laptop in the community room or on tablets at the bedside. Plus there is a hard copy quiz which sparks happy memories that can be discussed as a group. https://www.hatads.org.uk/hat-services/ad-memoire.aspx
D: More complex needs – coping with multiple needs
In this section, I cover music, visual and auditory stimulation. Music and sound are one of the first senses that we become aware of as babies in the womb and also one of the memories and abilities that we maintain in the latter part of our lives.
Music for Dementia
Music for Dementia is a great resource – download their musical guide which offers creative tips and activities to help everyone in isolation, using music as a unifying language.
Garden Days CD
Garden Days CD (£6.00) contains the carefully curated sounds of the garden. The sensory range is designed to facilitate communication and relaxation for individuals living with dementia. Whilst this is a CD, you can find lots of garden sounds on the app store and YouTube. https://www.alzproducts.co.uk/garden-days-cd
BBC RemArc
This is one of my favourites. This archive provides access to a selection of content from the BBC Archives. You can select a Theme (such as Sport or Event) or a Decade (from 1930s to 2000s) and choose whether you wish to have Image, Audio or Video content. The results are randomised each visit, however items can be 'favourited' to return to later. It's all free, love it. https://remarc.bbcrewind.co.uk/
So what of the future?
Researchers and scientists have been exploring ways to utilise robotic technology to aid in the care of older adults for quite a few years.
Pepper robot
Pepper is the world's first child-size social humanoid robot able to recognise faces and basic human emotion. His makers have tried to design Pepper to be a companion with the ability to communicate as well as perceive emotions and is promoted as being kind, endearing as well as surprising. It's around $1,500 to buy and is proving popular in Japan, particularly during Covid taking the role as a greeter and to ease loneliness. https://robotsoflondon.co.uk/pepper
Conclusion
Technology offers huge potential benefits for people effected by dementia, but there is quite a way to go, when I think about the original aims of the charter – to enable every person with dementia to have the opportunity to benefit from technology appropriate to their needs.
We've also to be mindful that there are 9m people who struggle to use the internet without help. We need to ensure the non-digital route is just as efficient. Covid didn't create inequalities but it has certainly shone a light on the huge gaps in equalities.
So whilst there is some fab stuff out there, don't be blinded by the shiny new gadgets at the expense of what matters to people.
Think hard about what your needs and aspirations are, and how technology can help people remain happy and healthy.
Link to webinar
https://www.youtube.com/watch?v=1Se9PSdcmBE
In my next blog
I'll feature top 10 tips on what you need to think about when buying technology for your loved ones.